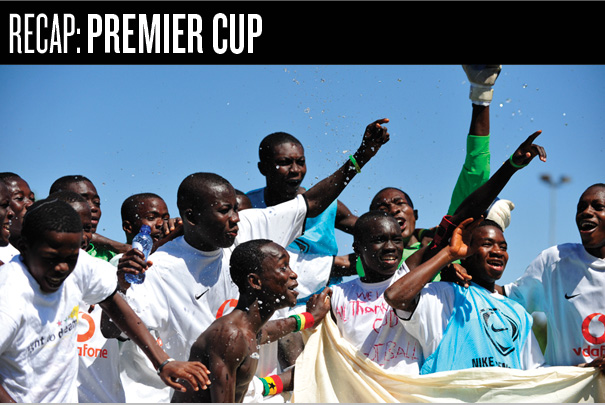 AFRICA QUALIFICATIONS OF THE MANCHESTER UNITED PREMIER CUP FINALS
Stuff that dreams are made of - three in a row for the Right to Dream Academy Team. For two days in May and in front of hundreds of EHQ employees, the Africa Qualifications for the Manchester United Premier Cup World Finals were played out. 4 teams and 64 under -15 footballers from 4 countries across Africa played 16 matches on our football field. The final was tense. Would Right to Dream Academy from Ghana do it again? And they did - beating the
Daga Young Stars (Cameroon) 1:0 to be the team to represent Africa, for the third year in a row, at the World Finals in August. Seems that EHQ is a lucky place for the Right to Dream Academy – a place where their football dreams are played out. Thanks to all those employees who came along to support. The Manchester United Premier Cup World Finals are played in 4-7th August 2010.
http://www.manchesterunitedpremiercup.com/

There is hidden employee talent all over EHQ. These amazing photos were taken by Nike employee and aspiring photographer Eilam Ilan. He is from Israel, has been at Nike for 6 years and works as an Inventory Planner for the AA (Always Available) team.

Thanks Eilam these photos are fantastic!
"It was a great experience to combine something that I am passionate about – photography – with my work here at Nike. What an inspiration it was to be around those kids – with their true love of the game – and to take photographs of them. Thanks to Nike for giving me the opportunity to show my photography skills as part of day to day life here at EHQ.''